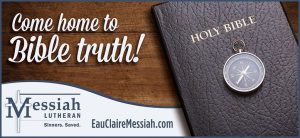 Messiah offers a variety of Bible classes to serve the needs of different ages and groups interested in growing in the knowledge of the gracious truths of God.
To listen to or view our weekend Bible classes online, click here.
Confirmation age through high school students meet Sunday mornings at 10:15 a.m. for Bible study and topical discussions.
The Messiah Home Bible Studies Program – There are a number of Bible studies being conducted in members' homes in the Eau Claire area, where we gather around the Word of God for spiritual growth and Christian fellowship. You may find locations, schedules, and contact information by checking Messiah's weekly bulletin.